Morocco is a country of dazzling diversity and a gateway to Africa. Spectacular mountain ranges, ancient cities, vast deserts, and hospitable people may all be found here.
Volubilis
The destroyed Roman city of Volubilis, which sits in the center of a fertile plain, is Morocco's finest archeological site. The wonderful mosaics that have been maintained on site are among its most astounding features and it was designated as a Unesco World Heritage Site in 1997.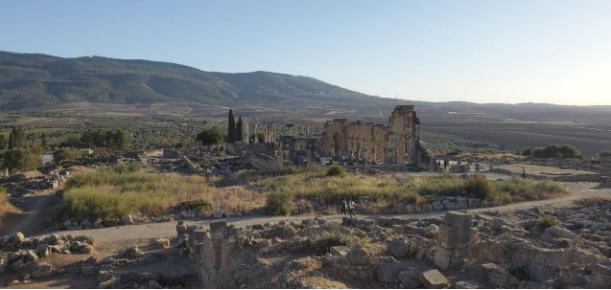 Volubilis is located approximately 33 kilometers north of Meknes and can easily be paired with nearby Moulay Idriss Zerhoun to form a superb day excursion from Meknes or Fez.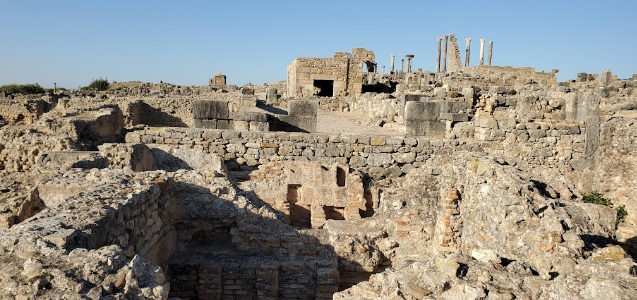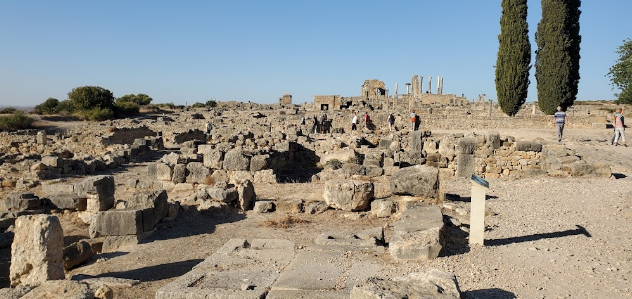 Tannery in Fez
Chouara's dyeing vats, as well as those of the city's other tanneries, are among the medina's most famous landmarks. The traditional craft of tanning and dyeing continues to play out in all its visceral authenticity (cow pee and pigeon poop are still vital components in the process).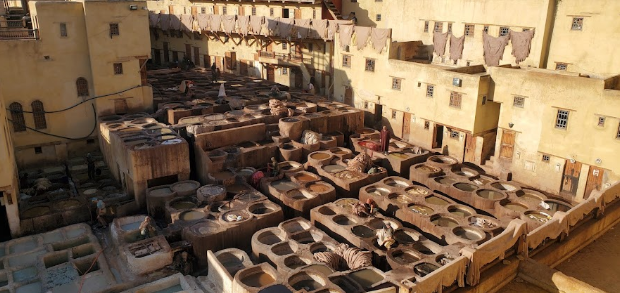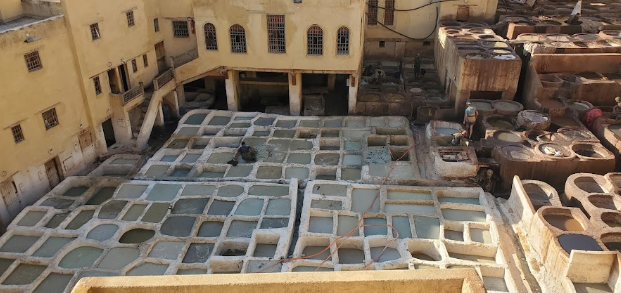 In the tannery pits, natural colors are often used, the blue that comes from indigo, red from poppy or paprika, and yellow from saffron, pomegranate, or even a mixture of turmeric and mimosa flowers.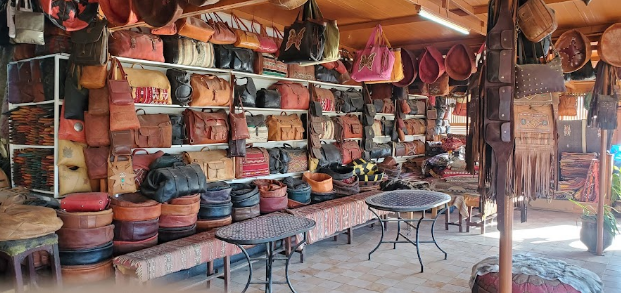 Medina in Fez and Camel Butcher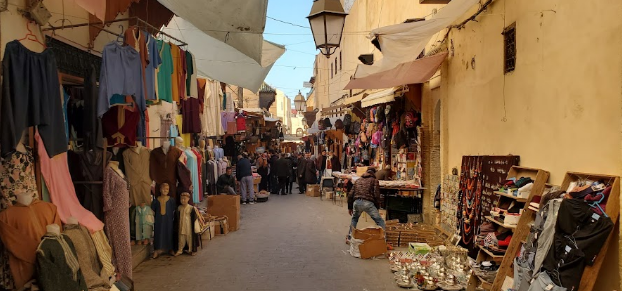 Medina of Fez was established in the 9th century and is home to the world's oldest university. Fez reached its zenith under the Marinids in the 13th–14th centuries, when it superseded Marrakesh as the kingdom's capital. Despite the fact that Morocco's governmental capital was moved to Rabat in 1912, Fez has preserved its role as the country's cultural and spiritual center.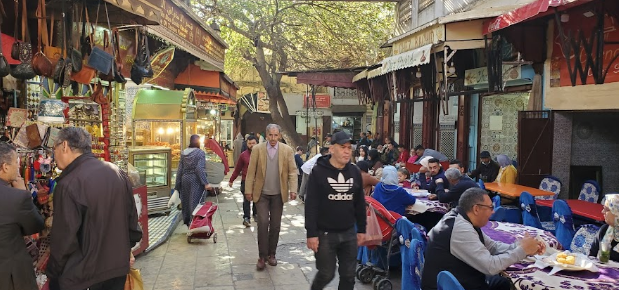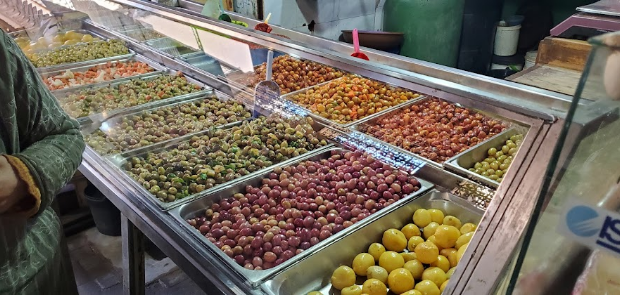 Camels, the famous animal of the vast caravans that traversed the great trade routes of the deserts, are still raised and driven in large numbers and exchanged in livestock markets ranging from the Atlas Mountains to the souks of Saharan towns.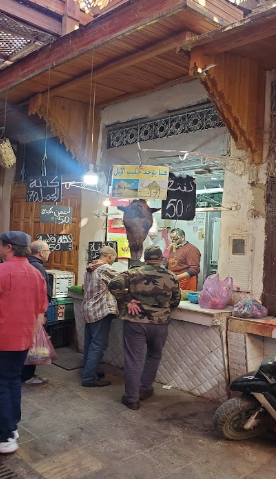 (Camel butcher selling camel meat)
Whether it be the nomadic tribes of At Haddidou still transporting their belongings and tents on the backs of Camels as they move camps, or Camels in the tent alleys of the great mousses, saddled and dressed up in front of cameras to pose with children dressed in Arabian Night's finery, or Camels that transport Moroccan and foreign tourists across the golden dunes of Erg Chebbi, the windy beaches of Essaouira, or the Palmerie of Marrakech; Camels are an indomitable feature of Morocco's landscape and lore.
Riad Fes Hotel in Fez
Pioneers in the rehabilitation of the thousand-year-old city's magnificent Riads decided to restore this Riad to its original splendor as lovers of their city, their cultural and architectural legacy, and the Moroccan art of living and entertaining.
This Riad was once owned by a notable city and was home to one of Fez's most refined families. In keeping with tradition, they refurbished this XIVth-century palace to provide guests with a one-of-a-kind experience.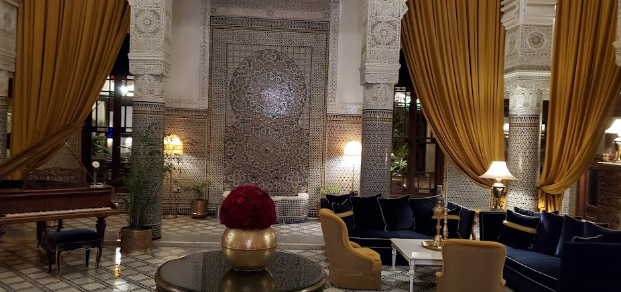 Residents of Fez, known as Fassis, characterize their city in terms of walls: you'll never comprehend her from the outside, but once inside, you'll grow to know and love the real Fez. This precisely describes the Riad Fes, which is tucked in one of Fez's small alleyways, its high blank walls offering no indication of what lies within.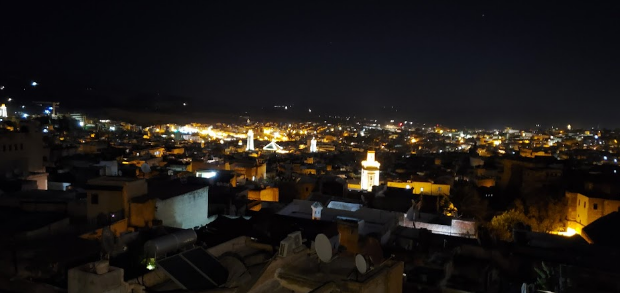 Once inside, a magnificent paradise awaits, complete with a lovely courtyard in the hotel's core. The riad is defined by delicate tile work, and the blue and white colors create a very relaxing atmosphere. The 17 rooms and suites are furnished with antique artifacts from the turn of the century, evoking the luxury of wealthy Fassi merchants.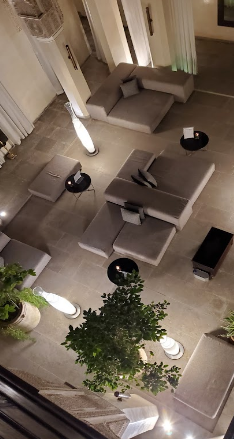 Atlas Studio
Named after a mountainous range surrounding it, Atlas Film Studios makes it the world's biggest film studio. With an enormous 31,000-square-meter lot, Atlas Film Studios definitely played a surprising number of renowned Hollywood films.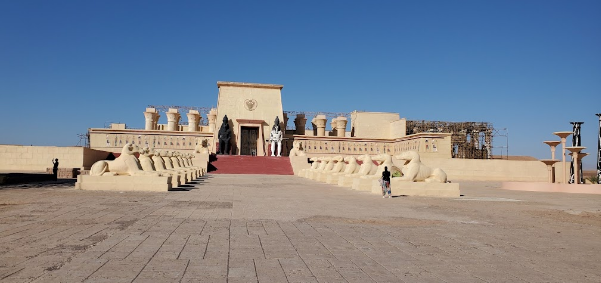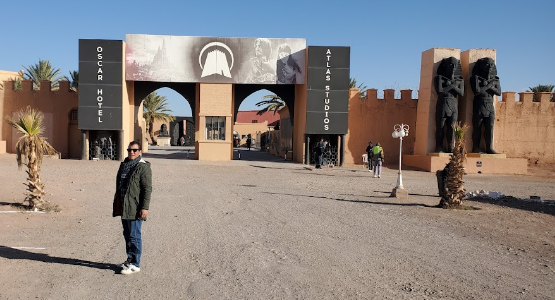 The 2019 Live-Action remake of Disney's Aladdin, has shot sequences here in Atlas Studio. Other well-known Hollywood films such as Gladiator (2000) and The Mummy (1999) also found its remoteness and huge area perfect for their needs.
The studio is located 5 kilometers west of Quarzazate City in Morocco. It is fully open to the public as long as there is no filming happening.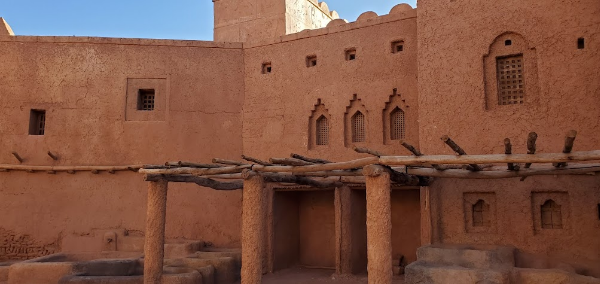 Majorelle Garden in Marrakesh
These Gardens are well-designed and maintained, similar to those at Generalife in Granada, Spain. It is a fantastic spot to unwind after the rigors of the market.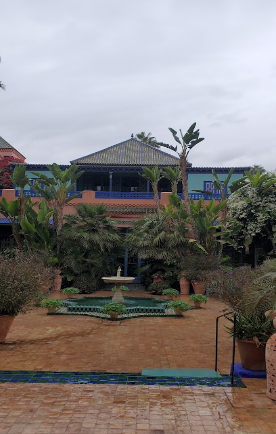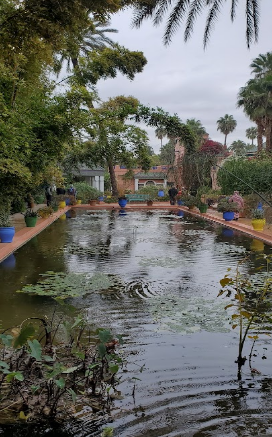 Maison la Arabe Hotel in Marrakesh
La Maison Arabe sits in the center of Marrakesh's Medina. This five-star hotel is located near the well-known, Jemaa El square.
This riad invites you to have an unforgettable stay in tranquil, authentic, and sophisticated settings. Enjoy one of the hotel's 26 rooms and suites, each with its own unique design. Every room was designed in a traditional manner with a contemporary twist.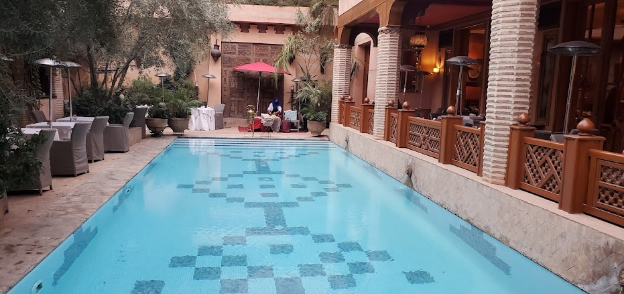 The hotel also has two restaurants that offer various cuisines. Les Trois Saveurs offers a voyage through French, Moroccan, and Asian cuisines, while The Restaurant serves traditional cuisine with background Arabo-Andalusian music.
Yves St. Laurent Museum in Marrakesh
The legendary designer brand, Yves Saint Laurent, has its museum opened its doors in 2017 designed by Studio KO as a dedication to the French fashion designer, Yves Saint Laurent. The museum houses a thousand impressive collections from the Fondation Pierre Bergé – Yves Saint Laurent.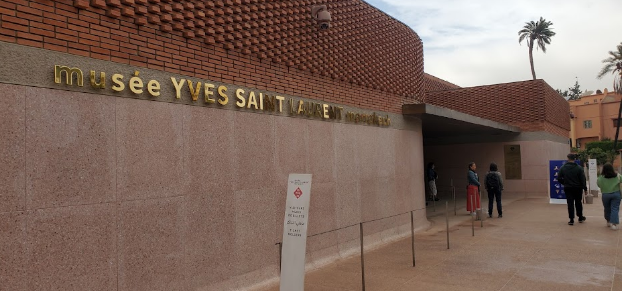 Aside from showcasing Yves Saint Laurent's works, the museum also has a 130-seat auditorium, a bookshop which has a collection of books on Arabic and Andalusian history, Berber culture, Yves Saint Laurent's oeuvre, and the world of fashion, a research library with 5,000 books, and a café-restaurant.
Djemaa Square and Marrakesh Medina
The Medina Quarter of Marrakech is a sensory overload. Place Djema El Fna, a UNESCO World Heritage Site, has a honeycomb network of souks, huge food stalls, and street theater. Get lost in Medina's evocative lanes and colorful markets, with its enormous Koutoubia Mosque, opulent hammams, and hidden riad courtyards.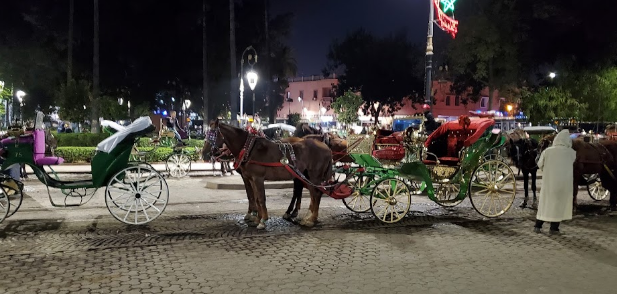 Exotic sights in Place Djema El Fna, Marrakech's open-air living room, where you will encounter anything from snake charmers to jugglers. For ages, the city's residents have gathered here for drama and excitement, with the square serving as a venue for public gatherings. Locals, musicians, acrobats, fortune tellers, and henna tattoo artists all come out for a leisurely stroll in the late afternoon and evening, bringing the region to life. Stay during the evening, when the area transforms into a huge outdoor eating venue.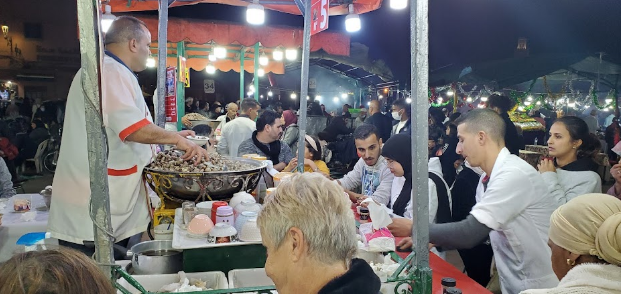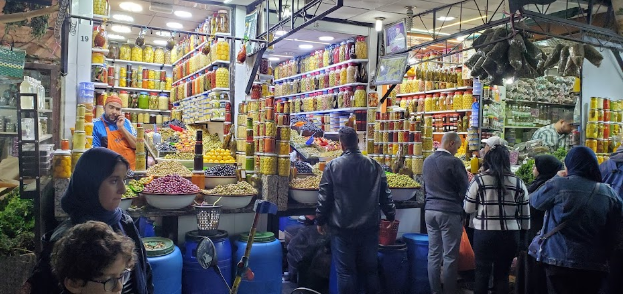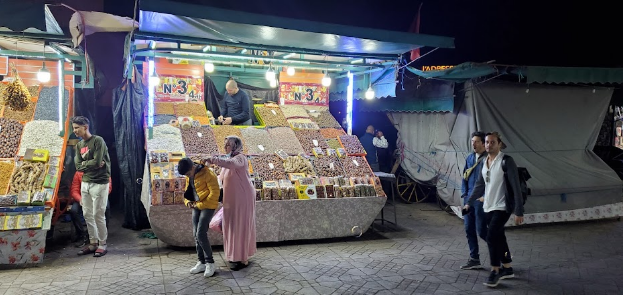 Since its foundation in the eleventh century, the Jemaa el-Fna Square has become one of Marrakesh's most important cultural spaces and has become one of the city's symbols. Located at the entrance to Medina, this triangular square, which is surrounded by restaurants, stands, and public buildings, provides daily commercial activities as well as various forms of entertainment.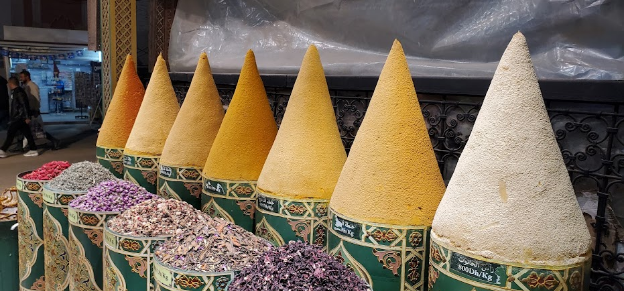 Kasbah of Ait Ben Haddou
Ait Benhaddou, Morocco – Drive southeast from Marrakech through winding mountain passes and bleak desert vistas, and you will arrive at the legendary fortified settlement of Ait Benhaddou in just under four hours.
The settlement, known as a ksar by the local Berbers, is located on the historic caravan route between Marrakech and the Sahara Desert. It is known for its magnificent earthen clay architecture, which makes it one of Morocco's most scenic and historically significant destinations.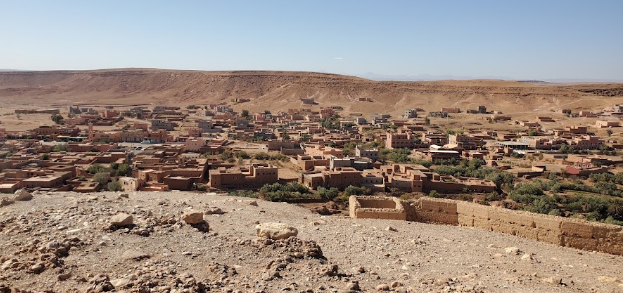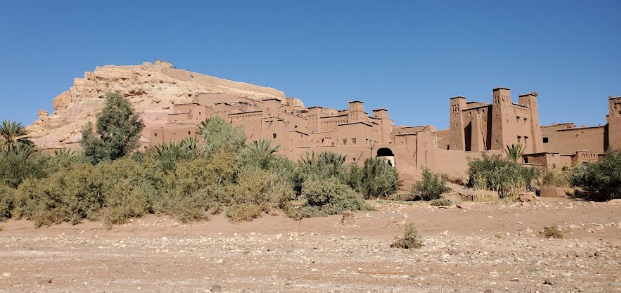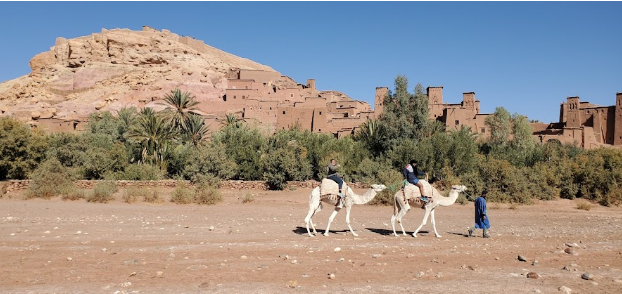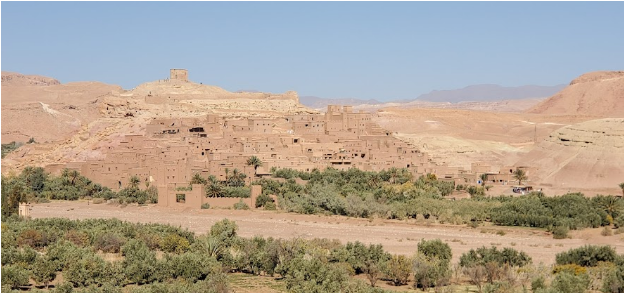 Hasan II Mosque
Hassan II Mosque, this beautiful mosque, constructed at great expense, is situated on an outcrop jutting out over the sea and features a 210-meter-tall tower that serves as a city landmark in Casablanca.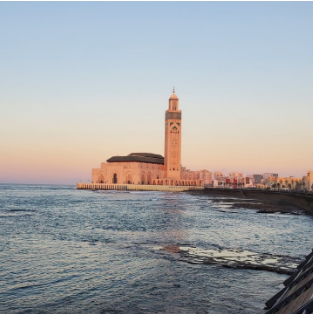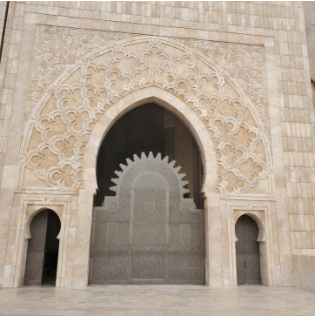 It's a demonstration of Moroccan artisanship at its finest, with hand-carved stone and wood, complex marble flooring and inlay, gilded cedar ceilings, and gorgeous zellige (geometric mosaic tilework) throughout.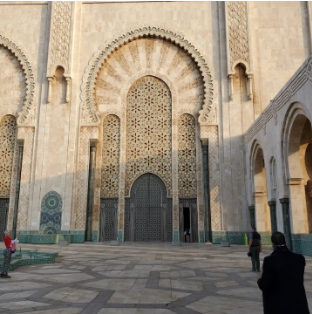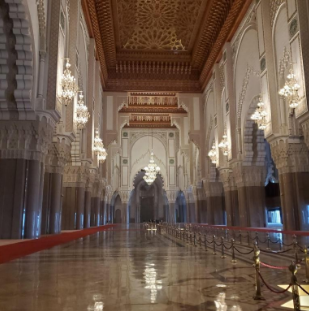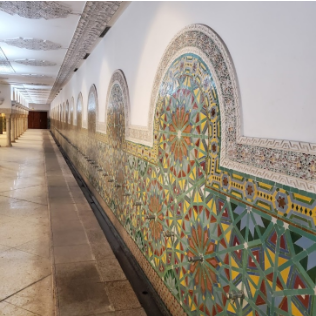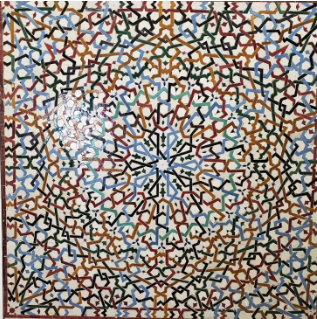 It is one of two Moroccan mosques that accept non-Muslims; modestly clothed visitors can have translated guided tours beyond the prayer times. There is also a small museum that displays craftsmanship.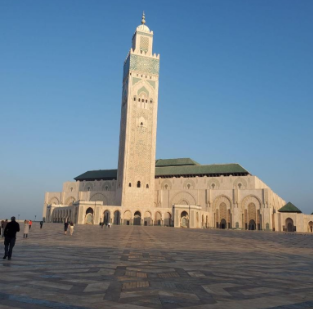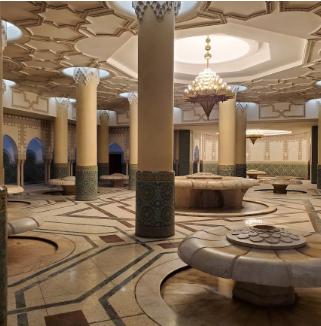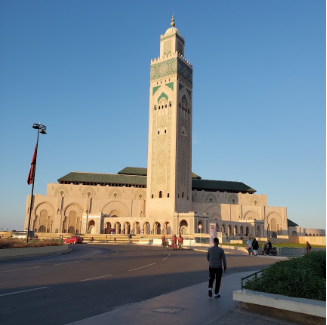 Rick's Café Casablanca
Rick's Café, Humphrey Bogart's Rick Blaine's iconic North African nightclub, is one of the most famous places to eat or drink. Rick's, on the other hand, did not exist in 1942. For the film, it was a fictitious invention made on a Warner Bros. backlot. However, this does not preclude you from eating lunch there. After all, as the film's original title suggested, "Everybody Comes to Rick's."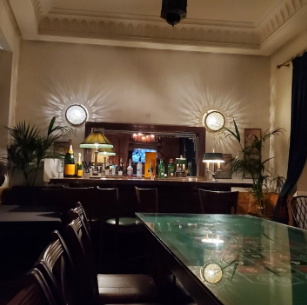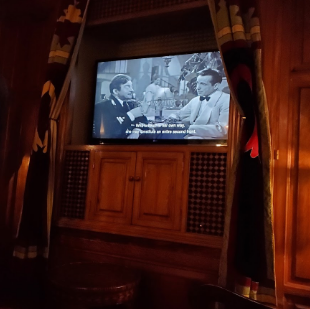 Rick's is still open today, and it's right in the heart of Casablanca, on Boulevard Sour did in Old Medina, nestled against the city walls.
Camel Trekking in The Sahara Desert and Glamping at Tiziri Luxury Camp
Tiziri Camp is unlike many other Moroccan camps. Despite the fact that their primary goal is to provide guests with an amazing experience, they strive to be as ecologically friendly as possible. One of their main objectives is to promote responsible tourism and allow people to have sustainable vacations in Morocco. In his language, the term "Tiziri" means moonlight, hence the silver moon in the emblem.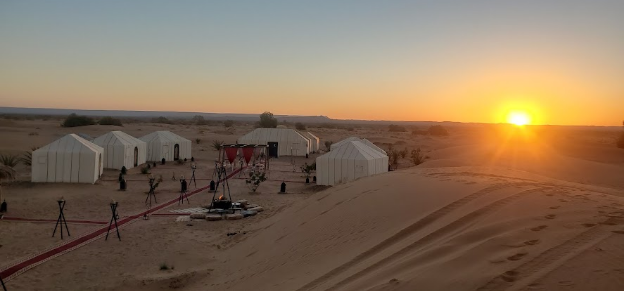 The Atlantic Ocean borders the Sahara on the west, the Atlas Mountains and the Mediterranean Sea on the north, the Red Sea on the east, and the Sahel on the south—a semiarid region that serves as a transitional zone between the Sahara and the belt of humid savannas to the south.