The more well-known Galapagos Islands frequently overshadow Quito, the nation's capital. The city's diverse array of distinctive attractions is frequently unknown to tourists. After all, Quito as a whole was declared the first UNESCO World Heritage site in history. This gateway city is one that tourists shouldn't pass up because it has more than two dozen historic churches, a wide range of museums and tourist sites, and a growing gourmet scene that honors local foods. This South American gem may just become your new favorite city thanks to a wide variety of accommodations at all price points and a tropical climate that maintains ideal temperatures year-round. Make travel arrangements with this list of the top things to do in Quito.
Historic Quito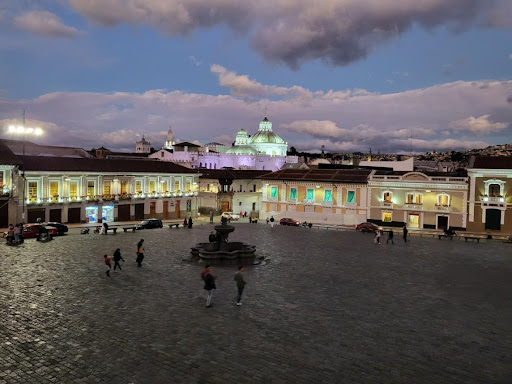 One cannot visit Quito without exploring the historic center and all that it has to offer, so this is an obvious location to start. The presidential palace at Plaza Grande is located in the historic center, along with other charming cafes and eateries and gorgeous colonial structures. Because of its impressive collection of colonial structures, Quito's historic core has even been designated a UNESCO Cultural Heritage Site. You may explore the streets in this part of the city relatively safely, and both locals and tourists frequent the region frequently. Enjoy your exploration and locate a wonderful spot to have a meal or a cup of coffee!
Virgin el Panecillo
The tallest statue of the flying Virgin Mary is made of aluminum. The Virgin of El Panecillo, one of Quito's most iconic icons, stands guard over the Old Town's historic streets. The big statue is said to those who live there. The name El Panecillo, which roughly translates to "small bread roll", is used to describe the hill where the statue is located. Even better views of the city below are possible by climbing the statue.
Hasta la Vuelta, Señor, Restaurant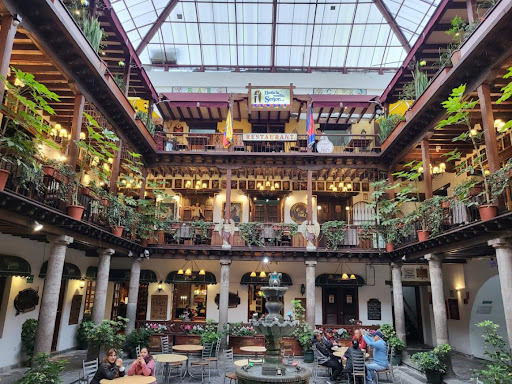 One of the easiest places to eat in Quito's center is the restaurant Hasta la Vuelta, Señor. It can be found in the historic district, at the Plaza Grande. This restaurant serves classic Ecuadorian fare and is at an ideal location. They offer a wide range of foods. It is a wonderful chance to sample some of the fine cuisine of the Ecuadorian highlands. It is not the most affordable restaurant in Quito, but given its location and high caliber, it is still worth it. Strongly advised!
Ride the Teleferiqo 
You have to ride the teleferiqo before you leave Quito. With breathtaking views of the city below this cable car ascends to a height of more than 4,000 meters above sea level on the Pichincha Volcano. If you're feeling adventurous, you can trek to the summit of the Pichincha Volcano from the top or ride one of the swings for a spectacular photo. Be prepared for the altitude and allow 4 hours to accomplish the hike.
Horseback riding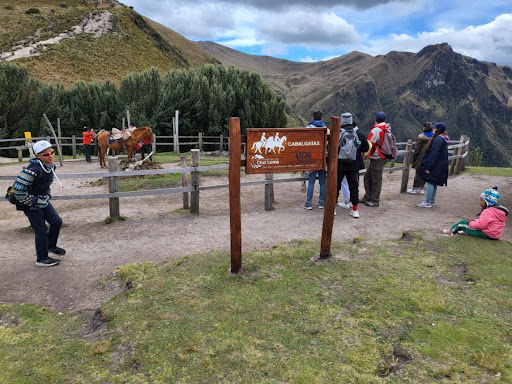 Ecuador has a rich history of horseback riding. When the Spanish conquistadors arrived in 1534 with horses, the llamas, and alpacas who had previously inhabited the pastoral plains were gradually replaced by cattle and horses. Haciendas have now become the center of Ecuadorian horseback riding. Large properties like these are dispersed all over Ecuador, and some still use horses for transportation. Other haciendas have been modified to add horseback riding excursions or concentrate on competitive jumping. Make sure you take advantage of the horse riding!
Mitad del Mundo
The equator line, which gives Ecuador its name, is located just a short drive north of Quito. Mitad del Mundo (middle of the world), a location where French explorers first estimated the equator to be, is marked by a huge monument, that allows passengers to simultaneously be in two locations. A region known as Mitad del Mundo City surrounds the monument. Here, you'll discover stores, eateries, and little museums that perfectly represent Ecuadorian culture. Keep an eye out for locally manufactured alpaca blankets (you won't have to go far), freshly prepared Ecuadorian street cuisine, including guinea pigs, and intermittent street dance performances.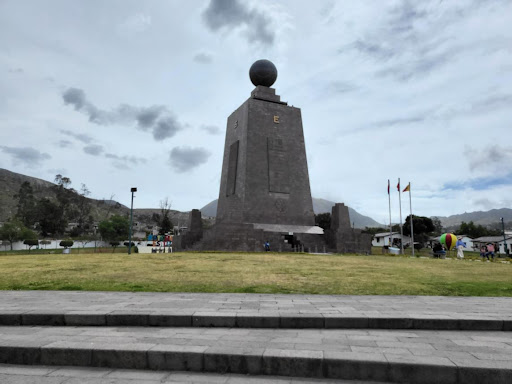 Intinan Museum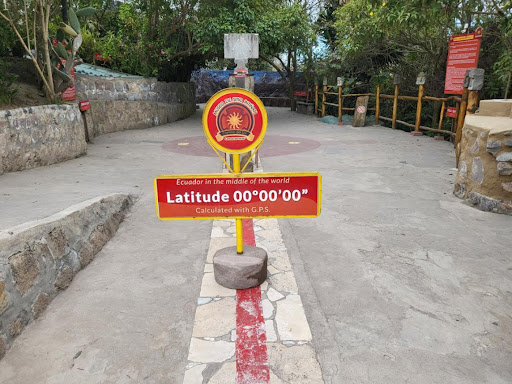 A little distance from Quito, near to the Mitad del Mundo memorial, is where you'll find the Intinan Museum. The equator line at Mitad del Mundo is a little wrong, as most people are aware. In addition to photo opportunities, the museum is a lot of fun! It's a fantastic choice for families taking vacations. Nowhere else on Earth is it simpler to go to the Equator or to stand with one foot in each hemisphere. Even Ecuador's name originated from its latitude of 0 degrees. Only 26 kilometers (16 miles) separate the capital city of Ecuador, Quito, from the Equator. It's simple to travel to with a little preparation and makes for an enjoyable half-day excursion.
Galapagos Islands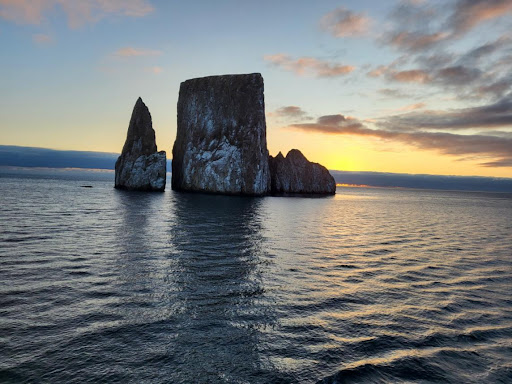 The Galápagos Islands, which bring tourists and scientists from all over the world, are Ecuador's main tourist attraction. Charles Darwin, who arrived in 1835 and has a research station named after him, was the most well-known guest. By boat, from sailboats to opulent cruise liners, is the most common way to tour the islands. The Galápagos Islands, one of the best places in the world for scuba diving and snorkeling, also offer a variety of thrilling activities on land, including horseback riding, mountain climbing, trekking, and of course, wildlife viewing in one of the planet's least disturbed natural habitats. Galápagos is one of those once-in-a-lifetime places that is worth all the hype, even though getting there isn't inexpensive.
Visit the Giant Tortoises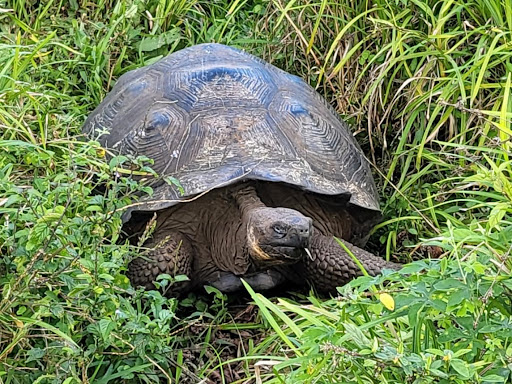 Magnificent gigantic tortoises, which can live for more than 150 years, favor Santa Cruz's foggy mountains over its shores. These ancient reptiles can be seen leisurely meandering through the local plants on the farmland up here. They frequently have a muddy pool to relax in or are ponderously chewing on leaves. One of the most thought-provoking things to do on the Galapagos Islands is to go up close to such ancient, peaceful creatures while still keeping the six-foot distance limit in mind.
Meet with the Marine Iguanas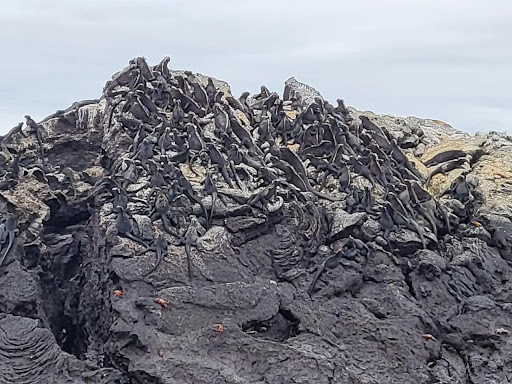 Prickly marine iguanas, which are exclusively found in the Galápagos Islands, can be seen huddled together on the rocks, soaking up the sun to warm their leathery, black skin. Typically, the dragon-like animals will allow you to sit close by and take an iguana selfie. However, if you approach too closely, you risk being doused in salt that the iguana snorts out of its salt glands. This endearing behavior is done to get rid of the surplus salt that the lizards have accumulated from their high-sodium diet.
Wander through Nesting Frigatebirds
Due to their glossy black feathers, forked tails, and striking red-neck pouches, frigatebirds have a stunning appearance. This pouch is unique to males, who will inflate it with air during mating season to make it appear much larger to draw females. There are frigatebirds on all of the islands, but North Seymour is home to the largest population. In the full exhibition, the males can be seen sitting on the ground between March and June. In July and August, when eggs hatch, you can see young animals. The frigatebirds in the Galapagos Islands are not frightened of people. You must, however, maintain a polite distance in order to not disturb them.
View the Boobies' Nesting Sites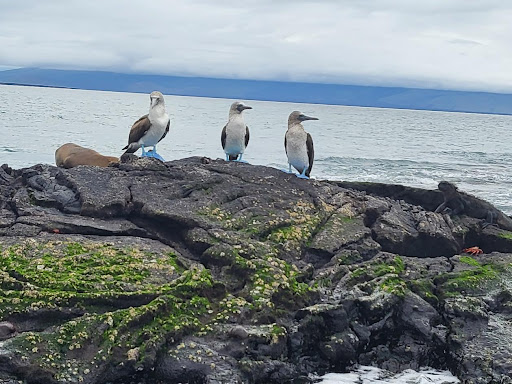 At Punta Pitt, a location on San Cristóbal Island, there is an opportunity to observe all three booby species: the red-footed, Nazca, and the well-known blue-footed. There is sufficient food available for all three to nest peacefully, and there is also a possibility to see frigatebirds. Birds are building nests all around you. While Nazca boobies like the cliffs, red-footed boobies favor vegetation. The blue-footed boobies, which just deposit their eggs on the ground, are the most intriguing of all.
Snorkeling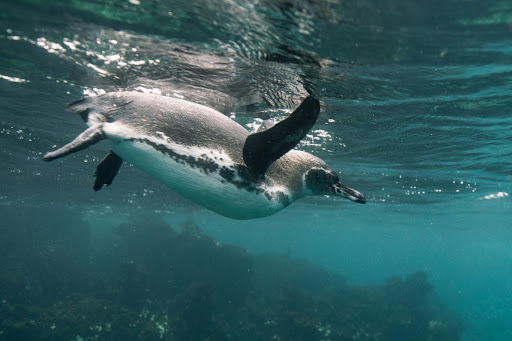 Snorkeling offers the opportunity to interact closely with marine species, which is a draw for many tourists to the Galapagos Islands. While snorkeling does not require any special training or experience, you will receive a full briefing before the activity owing to the nature of the Pacific Ocean, the currents that surround the islands, as well as conservation concerns for the reefs and its inhabitants. It is advised to snorkel in a group or with a "buddy", and to bring a camera underwater to capture images of green sea turtles, the tiniest penguin in the world, and some stunning reef species.
Take pictures of Galapagos Seals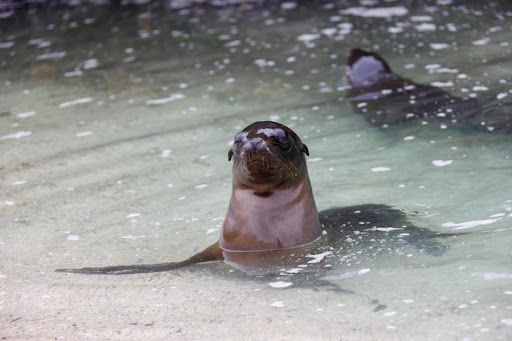 One of the nicest creatures on the islands is without a doubt the Galapagos seals and sea lions, especially if you see a youngster playing on the beach with its mother. One of the most prevalent species in the Galapagos, you may see them on almost all of the islands there.
Travel to the Galapagos Islands in style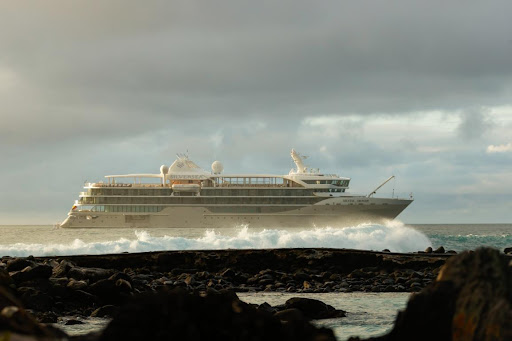 A luxurious Galapagos Cruise is essential if you want to get the most out of these amazing islands. As you travel from island to island, you will have delicious food as you comfortably tour the islands. Take advantage of guided tours that combine terrestrial exploration with a look at the Galapagos' aquatic ecosystem. The Galapagos Islands are not just one of the most biodiverse places on earth, but they are also something of a nature lover's paradise with wonderful beaches and an amazing variety of plant life. These islands offer both tranquil retreats and thrilling adventures, so there is something for everyone. You may enjoy an elegant all-inclusive ultra-luxury cruise lifestyle in 900 different locations around the world with Silversea. The smallest ships are made for people who enjoy the rush of exploration while basking in the most opulent surroundings possible.