To activate your travel benefits, please provide the following:
---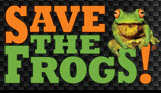 Save the Frogs Travel Benefit Program
Save the Frogs is proud to provide an amazing benefit to its volunteers. Each volunteer is eligible to receive a complimentary VIP membership ($99 annual value) to Travel Set Go, a world‐class private travel service provider.
Your VIP membership enables you to receive substantial discounts on hotels, condominiums and cruises. You can choose from more than 400,000 hotels and resorts worldwide for guaranteed lowest rates. If you find a better price, they will refund 110% of the difference.
Public sites such as Expedia, Kayak and Hotels.com can only offer a "retail" price that is provided by each hotel to assure a consistent price under a practice called "rate parity." Hotel chains do not want public sites to undercut their published prices. Because Travel Set Go is a "members only" travel agency, it is able to offer us what amounts to lower wholesale rates that are not subject to "rate parity".
Just enter your email address and our company password in the box on the left to receive your free VIP membership. Thank you for your service to the organization.
With VIP membership, you receive unlimited savings on Hotels, Condos, and Cruises
Activate your VIP membership below.
Examples of Savings
These are sample room rates, actual prices will vary.

Activate your travel benefits now.